Suing a Nursing Home for a Fall—Who Do I Sue?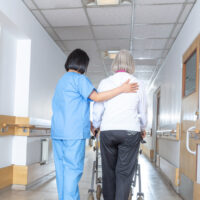 Slip and fall accidents can have serious health consequences for victims of any age, but they can be especially devastating for the elderly. Often, residents of nursing homes have additional health concerns that can make them even more vulnerable to falling than the average senior citizen, as well as slower to make a full recovery. When a nursing home resident is injured in a fall, the fall victim and their family may have the right to sue for money damages to compensate them for the costs of treating their injuries. Learn more below about how to take legal action after a nursing home fall, and contact an experienced New Jersey nursing home neglect lawyer for more information.
Falls are a major source of injury among the elderly
The Centers for Disease Control and Prevention report that more than one out of four older adults fall every year and that one out of every five falls results in a severe injury such as a bone fracture or traumatic brain injury (TBI). About 95% of all hip fractures are the result of a fall. In 2015, the total cost for all falls across the US among the elderly was over $50 billion.
Nursing homes are required by law to provide attentive and knowledgeable care for weak older residents and patients. A licensed nursing home should have a sufficient number of staff members to ensure that patients are regularly monitored. These facilities should be equipped with safety railings and nonslip surfaces and should be carefully maintained to be free of hazards that could result in an accident for a resident. Despite these requirements, nursing homes report tens of thousands of falls among residents every year.
Can I sue after a nursing home fall?
In some cases, nursing home residents who are injured in a fall may have the right to sue the nursing home for compensation related to the costs of medical treatment and pain and suffering related to the fall. The fall victim—along with the help of a seasoned attorney—would need to prove that the nursing home or its staff members had failed to carry out a legal duty it held toward the resident, and that the failure to carry out that duty resulted in the resident's fall and fall-related injuries.
For example, nursing home staff members may have failed to answer a resident's call buzzer, resulting in a feeble resident attempting to use the facilities or walk to the cafeteria unaided and falling while walking. Perhaps a nursing home failed to carefully hire and train staff members, resulting in an irresponsible staff member failing to follow good practices in moving a weak resident from a wheelchair to a bed and causing the resident to fall. In some cases, fall victims may also decide to file a lawsuit against a responsible individual themselves in addition to the nursing home, especially if the individual was not in a formal employment relationship with the nursing home. A consultation with a seasoned nursing home negligence attorney can help you determine whether your case is a good candidate for a personal injury lawsuit based on a nursing home fall.
If you or someone you love has been injured in an accident in a New Jersey nursing home, contact the compassionate and professional Hamilton nursing home negligence attorneys at Lance Brown & Associates at 609-587-5100.