Can I Sue a Nursing Home for Negligence if I Signed an Arbitration Agreement?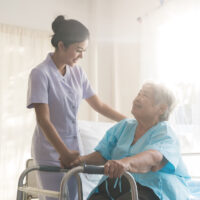 It has become common practice for nursing home contracts (as well as contracts for many other consumer services) to include a provision requiring the resident and their family to handle any future dispute with arbitration rather than via lawsuit. These arbitration clauses require an individual to waive their right to file a lawsuit for damages against the nursing home based on claims such as breach of contract. While arbitration can be a cheaper and more streamlined alternative to traditional lawsuits, the process is best reserved for two equal-power parties and can be disadvantageous when, for example, an individual is arbitrating against a big business. More recently, nursing homes have been making those arbitration clauses optional, allowing residents to be admitted even if they do not consent to arbitration.
If you or your loved one did sign a nursing home contract including such an arbitration clause, does that necessarily mean that you cannot file a lawsuit alleging negligence against the nursing home? Under what circumstances will a New Jersey court ignore such a clause and allow a lawsuit to proceed? The New Jersey Appellate Division recently addressed this issue, and while the case is unpublished (and therefore non-binding on other courts), it provides a useful illustration as to how New Jersey courts view arbitration clauses in nursing home contracts. Read on for details about the case and how New Jersey courts view arbitration clauses, and contact a knowledgeable New Jersey nursing home neglect lawyer for more information.
Appellate court throws out arbitration agreement in nursing home contract
The plaintiff in the case titled Ricciardi v. Abingdon Care & Rehab Center was fifty-three years old when he transferred to the defendant skilled nursing facility. He had previously been diagnosed with multiple sclerosis (MS) and bipolar disorder. He alleged that negligence of the facility and its staff caused him to develop multiple advanced stage pressure ulcers, resulting in "great pain, suffering, disability, loss of quality of life and medical expense." The facility filed a motion to dismiss the complaint based on the fact that, upon his admission, the plaintiff had signed an arbitration agreement in which he waived his right to sue the facility and agreed to arbitrate any future legal disputes.
The Appellate Division found that the arbitration agreement was unenforceable. The plaintiff did not allege that he lacked the cognitive functioning sufficient to sign the agreement, but instead argued that the arbitration agreement was never truly presented nor explained to him, and thus it would be unconscionable for the court to enforce it. 
The arbitration agreement was mixed in with twelve other admission documents when presented to the plaintiff, and he was simply told to sign on the dotted line on twelve different pages. He signed all of the documents within a minute. The arbitration agreement was never explained to him (i.e., that he was waiving his right to sue), and while he was given copies of three of the documents after signing, the arbitration agreement was not among them. He first learned of his apparent waiver of his right to sue when the motion to dismiss his complaint was filed.
The court held that arbitration agreements "must be the product of mutual assent," and here, there was no mutual assent. The plaintiff was given no time to review the agreement, it was not explained to him, and he was not given a copy afterwards to review or to discuss with friends, family, or legal counsel. Waiving your legal rights is a serious matter and should not be taken lightly. As a result, the court allowed the nursing home negligence lawsuit to proceed.
Contact the New Jersey Nursing Home Negligence Lawyers at Lance Brown & Associates
If you or someone you love has been subject to abuse or negligent care in a New Jersey nursing home, contact the passionate and effective Hamilton nursing home negligence attorneys at Lance Brown & Associates at 609-587-5100.