Authorities Investigating Multiple Claims of Abuse at New Jersey Nursing Home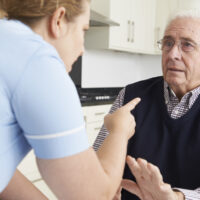 When our loved ones reach a certain age, there often comes a point when they require more regular monitoring and easy access to medical services than we can provide in our homes.Many people entrust the care of their elderly loved ones to nursing homes and long-term care facilities, with the understanding that our vulnerable family members will be treated with the utmost respect and care.Unfortunately, that is not always the case.One New Jersey nursing home is currently under investigation after multiple residents and family members reported instances of severe abuse and neglect.Learn about the allegations below, and reach out to a seasoned New Jersey nursing home neglect lawyer if you have a family member being harmed in a New Jersey nursing home.
Mounting claims of abuse against New Jersey nursing home
Local police and the New Jersey Health Department are investigating Westfield Center, a nursing home in Westfield, New Jersey owned by Genesis Healthcare, after receiving reports of unexplained injuries and other signs of abuse from multiple residents and their families.
The investigation began after a Westfield man reported that his 86-year-old mother was sent to a hospital with severe injuries, including a broken nose, double fractures to her face, and stitches.Photos of the woman's injuries, displayed by CBS New York, are disturbing.The injuries were localized to the wheelchair-bound woman's face; she had no injuries elsewhere on her body, belying the facility's explanation that the injuries were sustained in a fall.Her son reported that she has suffered multiple unexplained injuries during her year-long stay at the facility.The woman claims that nursing home staff treat her roughly and hit her.
After the first report, other residents came forward with claims of abuse against the New Jersey nursing facility.CBS2 reports that other family members have seen unexplained bruises, unchanged wet diapers and other unattended excrement in patient rooms, as well as other apparent instances of neglect or abuse at the home.Dozens of people responded on social media with similar stories.Authorities are now investigating some of these additional claims as well.
Get Professional Legal Help After Abuse or Neglect in a New Jersey Nursing Home
If you or someone you love has been subject to abuse or negligent care in a New Jersey nursing home, contact the experienced and dedicated Hamilton nursing home negligence attorneys at Lance Brown & Associates at 609-587-5100.