Bedsores Study Could Be Mixed Blessing for Prevention of Nursing Home Neglect in New Jersey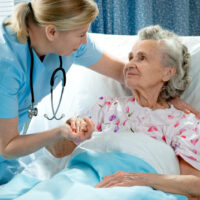 The results of a study funded by the U.S. National Institutes of Health and recently published in the Journal of the American Geriatrics Society suggests that nursing home patients who are confined to their bed may not have to be turned as often to prevent them from developing bedsores. An unintended consequence of this study could be that nursing home residents are not looked in on as often as they were before, increasing the likelihood that residents may become victims of nursing home neglect.
The current standard for nursing homes in New Jersey and elsewhere in the U.S. is for bed-ridden patients to be turned every two hours to keep them from developing bedsores, also known as pressure ulcers, which are painful sores which develop when a person has been sitting or lying in the same position for an extended period of time. Bedsores can become infected and can be very deep. Some bedsore victims have sores so deep that the underlying bone is exposed. Needless to say, untreated bedsores can be permanently debilitating or even life-threatening.
The recent study, which included 960 nursing home residents in 29 long-term care facilities across the U.S. and Canada, found that patients using high-density foam mattresses did not benefit from being turned every two hours. In fact, the study found that regardless of whether they were turned every two, three or four hours, patients resting on high-density foam mattresses simply did not develop bedsores.
In some respects, being turned less often can be a blessing to nursing home residents in New Jersey. As study leader Dr. Nancy Bergstrom mentioned in a news release issued last month, "Turning residents every two hours throughout the night awakens them, and many people can't go back to sleep, therefore decreasing their quality of life." Doctor Bergstrom was quick to point out, however, that clinical judgment is still required and that "these findings do not mean that turning is unnecessary."
New Jersey nursing home neglect attorney Lance Brown is concerned that the study results may be misinterpreted to mean that nursing home patients do not have to be checked on as often. "If high-density foam mattresses prevent bedsores and improve the quality of life for New Jersey nursing home residents, then they should certainly be implemented to the greatest extent possible," commented Mr. Brown. "However, residents should still be looked after around the clock to make sure their other needs are being met, including proper nutrition and hydration, medical care and social interaction. Nursing home neglect is a very real problem that we are battling every day in New Jersey."