How Do I Protect My Home in Bankruptcy?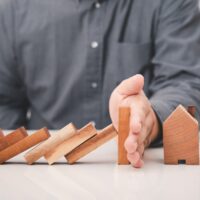 One of the biggest concerns for individuals considering bankruptcy is losing their home. Many debtors believe that filing for bankruptcy, particularly Chapter 7 bankruptcy, will lead to a bankruptcy trustee selling their home in order to pay off their debts. While Chapter 7 bankruptcy could theoretically involve selling property to repay debts, in reality, there are a number of state and federal exemptions that allow debtors to protect their property from sale. Many debtors are able to keep most, if not all, of their property by relying on the advice and representation of a seasoned and knowledgeable New Jersey bankruptcy and debt relief attorney. The homestead is one such exemption.
New Jersey does not have a homestead exemption, but the federal government does
When filing for bankruptcy, you have the option of relying on a set of exemptions under either federal or state bankruptcy law. These exemptions list out property that will not be sold as part of your bankruptcy proceeding. While some states do have an exemption for the family home, New Jersey, unfortunately, does not.
Thankfully, you do not have to rely on the New Jersey exemptions when filing for Chapter 7 bankruptcy. If you qualify, you can rely instead on the federal exemptions laid out under Chapter 7 of the federal bankruptcy code. In New Jersey, you can choose either the federal exemptions or the state exemptions, and then rely on the whole set of exemptions laid out in that code. You cannot rely on a mishmash of both sets of exemptions; you are tied to one or the other. Federal law, though, does include a homestead exemption.
The federal homestead exemption
Under the federal bankruptcy code, you can exempt a portion of a residential property from sale as part of your Chapter 7 bankruptcy proceeding. You can exempt up to a certain amount of equity in your home, and the amount of equity changes periodically to reflect housing prices and the economy. As of April 1, 2019, you can protect up to $25,150 of equity in your principal place of residence. For married couples, the amount of the homestead exemption is doubled to $50,300.
If your home equity is covered by the homestead exemption, and you are current on your mortgage, you can keep your home. If, however, you have too much equity so that you cannot protect it all with the exemption, then the trustee might want to sell your home. The equity of your home is calculated by taking the difference between your home's value (current market value) and the amount you owe to the mortgage holder (and any other lienholders).
In other words, if you were to sell your home after you paid off your mortgage (and after other costs such as the cost of sale and the trustee's commission), would you have more than $25,150 leftover (or $50,300 for married couples)? If the answer is yes, then the trustee might want to sell your home and use those extra proceeds to pay your debt. If the answer is no, then the trustee will not sell your home.
Additionally, if you are behind on your mortgage payment, your lender might seek to foreclose on your home after the bankruptcy or ask the court to lift the automatic stay so they can foreclose sooner. Your bankruptcy attorney can help prevent these events from occurring.
If you qualify for the federal exemption and have a home to protect, this might be a strong argument for choosing the federal exemptions in your particular case. It is, however, essential to have a lawyer look at your entire situation to make sure you are choosing the best set of exemptions for your specific situation. Even if you have a home, the extent of your debts and the other property that you prefer to protect may argue in favor of relying on the New Jersey state exemptions instead of the federal ones. Speak with a knowledgeable bankruptcy attorney about your circumstances to evaluate which set of exemptions and which form of bankruptcy is ideal for your interests.
If you are struggling with your mortgage, student loans, credit card debt, or other financial issues in New Jersey, contact the dedicated and detail-oriented Hamilton bankruptcy and debt relief attorneys at Lance Brown & Associates at 609-587-5100 to discuss your options for financial relief.