Will I Lose My Property in Bankruptcy?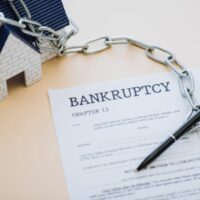 If you are struggling with consumer debt, such as credit card bills, medical expenses, student loans, and one or more mortgages, you may be wondering whether declaring bankruptcy is a viable option. Bankruptcy helps hundreds of thousands of people across the country get out from under crippling debt every year. Many people considering bankruptcy wonder whether they will end up losing all of their property in the process. Depending on the type of bankruptcy, a debtor might end up selling some property in the process, but with help from a knowledgeable and experienced New Jersey debt relief attorney, most debtors can keep most, if not all, of their property when filing. Below, we discuss how your property can be affected when filing for the two most common forms of consumer bankruptcy: Chapter 7 and Chapter 13.
Chapter 13 Bankruptcy
Chapter 13 bankruptcy, also called a "wage earner's plan" or reorganization bankruptcy, allows individuals with a regular income to develop a plan to repay part or all of their covered debts over a repayment period of three or five years. Chapter 13 does not involve the collection and sale of any of a debtor's property as part of the repayment process. Moreover, filing for Chapter 13 bankruptcy triggers an "automatic stay" of all collection procedures, such as foreclosures and repossessions.
Chapter 13 bankruptcy filers do not need to worry about losing any of their property to the bankruptcy process. Covered creditors will not be able to repossess any property in connection with debts that are part of the repayment plan so long as the debtor remains current. Mortgage-holders might be able to get the court to lift the automatic stay, however, so Chapter 13 filers should use the opportunity to get current on mortgage payments in order to avoid foreclosure. The Chapter 13 process itself may be used to lower the amounts of those payments to make them more affordable.
Chapter 7 Bankruptcy
Chapter 7 bankruptcy involves working with a bankruptcy trustee, the court, and creditors to obtain a settlement clearing all covered debts. The settlement will repay as much of the outstanding covered debts as possible, funded in part by selling certain of the debtor's assets.
While Chapter 7 could, in theory, involve selling personal property to repay debts, in practice, most debtors can protect most, if not all, of their property from sale. With help from a savvy bankruptcy attorney, debtors can rely on state or federal exemptions in the bankruptcy code to protect categories of property. Debtors can typically keep real property such as their homes, as well as much of their personal property, including cars, electronics, home furnishings, and others. Talk to a seasoned debt relief attorney about your finances and your property to find out how you can protect your desired assets in a Chapter 7 bankruptcy proceeding.
If you are struggling with your mortgage, student loans, credit card debt, or other financial issues in New Jersey, contact the passionate and detail-oriented Hamilton bankruptcy and debt relief attorneys at Lance Brown & Associates at 609-587-5100 to discuss your options for financial relief.