Payday Lending: What is it, and is it Illegal?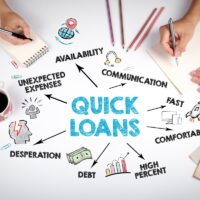 If you have ever struggled to make ends meet while waiting for a paycheck to arrive, you might have thought about "payday lending." Depending on what you have heard, you might think it sounds too good to be true, or you may already think it is a despicable practice that is, or should be, illegal. Below, we will dispel some of the myths and mystery about payday lending. If you are facing financial hardship, reach out to an experienced and understanding New Jersey debt relief attorney.
What is Payday Lending?
There is no specific definition of a payday loan, but payday loans tend to have a few factors in common. A payday loan is generally a short-term, high-cost and high-interest loan. The typical loan amount is less than $500 (some states, in fact, set limits on the amount of these loans), and they are usually due on the date of your next paycheck, two to four weeks after the loan date. The idea is to give the borrower a cash advance on their paycheck (or payment from some other source such as a pension or Social Security) so that they can pay their rent and other bills that come due before the borrower gets paid. The borrower will then repay the loan in a lump sum when they get their check. Some payday lenders request borrowers to issue them a post-dated check for the full amount so that the lender can cash the check the day or the day after the borrower gets their next paycheck.
The Dangers of Payday Lending
While the concept sounds nice–getting money in advance that you are already going to have, and then paying the loan off in a lump sum once you get your paycheck–payday loans tend to be predatory and problematic. Payday lenders typically do not worry about the credit score or ability to pay off the borrowers, because they know that borrowers are in a tough spot. Instead, payday lenders charge unreasonably high fees on the loans.
Payday lenders often charge fees as high as $10 to $30 for every $100 borrowed. The interest rate compounds if a borrower is unable to pay it all back when they do get their paycheck. A $15 per $100 fee on a two-week payday loan equates to an annual percentage rate (APR) of nearly 400 percent. For comparison, a typical credit card charges around 15 to 30 percent APR. Also, the loans often come with required authorizations, giving lenders the ability to withdraw money directly from the debtor's account or receive and withdraw the borrower's paychecks directly.
Is Payday Lending Legal?
New Jersey is one of a handful of states that outright prohibits predatory payday lending. In the State of New Jersey, only banks and other licensed lenders can issue short-term or long-term loans, and there is a strict interest cap on APR of 30 percent. Additionally, New Jersey prohibits "check-cashers," even those with a proper license, from issuing cash advances on a post-dated check.
If you have been approached by a payday lender or entered into a contract with a lender, and the terms are predatory and well above a 30 percent APR, you can challenge your obligation. Speak with an experienced New Jersey debt relief attorney to discuss your options for dealing with a payday lender.
Alternatives to Payday Lending
As we've discussed, payday lending is far from ideal. Even within the New Jersey state limits, borrowers are likely to wind up in a cycle of loan extensions and interest payments, ultimately owing far more than the amount that they borrowed. If you are struggling with consumer debt, there are numerous other alternatives. You may be able to restructure or refinance your debt. You may be able to consolidate your debt into a single, lower-interest loan. You may be able to file for consumer bankruptcy and get relief through a Chapter 7 discharge or Chapter 13 restructuring plan.
If you are struggling with your mortgage, student loans, credit card debt, or other financial issues in New Jersey, contact the compassionate and effective Hamilton bankruptcy and debt relief attorneys at Lance Brown & Associates at 609-587-5100 to discuss your options for financial relief.