Discharging Student Loans in Bankruptcy: Is it Possible With Undue Hardship?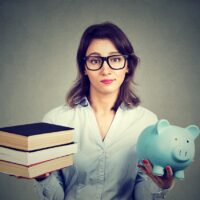 The bankruptcy laws are not favorable to student loans. Unlike typical consumer debt, student loans can only be discharged if the debtor makes an additional showing that being forced to pay back their loans would cause them significant hardship. For a long time, discharging student loans in bankruptcy was next to impossible for anyone not in extreme poverty; proving the requisite level of hardship was simply not feasible. In recent years, however, some bankruptcy courts have become more lenient about satisfying that hardship burden. Read on to learn about the test for discharging student loans in bankruptcy. If you are struggling with consumer debt, call a seasoned New Jersey bankruptcy and debt relief attorney.
What is the Undue Hardship Test?
Most unsecured consumer debts can be discharged automatically in bankruptcy without any additional showing. Student loans, however, can only be discharged if a debtor proves that payment of the debt "will impose an undue hardship on you and your dependents." It is up to the bankruptcy court to decide whether you have sufficiently demonstrated "undue hardship."
Different courts use different tests to evaluate undue hardship. The classic test, still employed by many courts, is known as the Brunner test. Under the Brunner test, you can discharge your student loans in bankruptcy if you establish three factors:
Poverty. If forced to repay your loan, you will be unable to maintain a minimal standard of living for yourself and your dependents.
Persistence. Your difficult financial situation is likely to continue for the foreseeable future.
Good faith. You have made a good faith effort to repay your loans.
Is it Possible to Prove Undue Hardship?
Historically, the Brunner test was difficult to meet, essentially requiring the debtor to prove that they would be in extreme poverty if they were forced to repay their debts. A minimum wage earner unlikely to ever get a pay rise might be able to satisfy the test, as would others below the poverty line.
Many courts have begun to employ a more lenient understanding of "undue hardship." While they still use the Brunner test, they also look at other factors comprising the totality of the circumstances to evaluate the debtor's claims. They will consider the level of hardship posed, the debtor's current income and earning potential, whether the debtor actually benefited from their degree, whether their university has been accused of fraud or other wrongdoing, and whether other expenses such as medical expenses render paying down student loans infeasible.
Most courts employ a more understanding view of "minimal standard of living" nowadays as well. Whereas courts used to require a debtor to show they would fall below the poverty line to prove undue hardship, now "minimal standard of living" can fall somewhere between poverty and "mere difficulty." While discharging student loans is still much more difficult to get rid of in bankruptcy than credit card bills or other consumer debt, it is much more achievable than it used to be. A savvy bankruptcy and debt relief attorney can help you build the strongest case for claiming hardship and discharging your student loans in bankruptcy.
If you are struggling with your mortgage, student loans, credit card debt, or other financial issues in New Jersey, contact the dedicated and detail-oriented Hamilton bankruptcy and debt relief attorneys at Lance Brown & Associates at 609-587-5100 to discuss your options for financial relief.